Phiona Richards...Paper Artist...Book Sculptor..
Latest News:
Phiona has some her work in the "Meraki" exhibition at the Heart Gallery, Hebden Bridge from 4th February to 22nd April 2018
Seeing the Wood for the Trees Project
Will be running every Monday throughout February with the theme of Winter. Meeting up at Cornerstone Church hall, Kingswood, Corby at 2pm. It is FREE to come along to the sessions as long as you live in either Kingswood or Hazel Leys in Corby.
This project is funded by the KHL Big Local
Creative Workshops for March
Geometric Stitched Notebooks

Wednesday 7th March, 10.00am to 1.00pm
Leicestershire Craft Centre, Market Harborough
Tel: 01858 466692
Workshop Fee: £36
Book of Journeys
Saturday 24th March, 10.00am to 1.30pm
Attenborough Arts Centre, Leicester
Tel: 0116 252 2455
Workshop Fee: £41 or £23 concessions
Don't forget to visit the Workshops page there are new ones listed all the time.

What people say:

It always fascinates me the way you use things that normally people would just chuck in bin

Millie, 50+ Group, Autumn Centre

I would never have dared to cut up a book as a child, but now I see what you can make....

Ann, Co-operative Women's Guild

I had a brilliant time at Phiona's "Box of Delights". It's great fun and it's amazing what you can make. I would recommend this workshop to all ages - adults and children alike will love it.

Catherine Wayland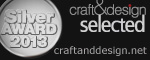 Phiona received a Silver Award in the Specialist Media category 2013 from the Craft & Design Selected Awards