Phiona Richards...Paper Artist...Book Sculptor..
January and February Workshops
Travel Journal Workshop at Wistow Gallery, Leicester on Sunday 22nd January, 1pm to 4pm
Mixed Media Clock Workshop at Wistow Gallery, Leicester on Sunday 18th February, 10.00am to 4.00pm
Don't forget to visit the 'Workshops' page there are new ones listed all the time.

What people say:

It always fascinates me the way you use things that normally people would just chuck in bin

Millie, 50+ Group, Autumn Centre

I would never have dared to cut up a book as a child, but now I see what you can make....

Ann, Co-operative Women's Guild

I had a brilliant time at Phiona's "Box of Delights". It's great fun and it's amazing what you can make. I would recommend this workshop to all ages - adults and children alike will love it.

Catherine Wayland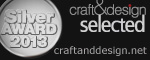 Phiona received a Silver Award in the Specialist Media category 2013 from the Craft & Design Selected Awards
Voting has begun for the 2016 Awards.